Look Ma! No Hangover!!!
WooHoo!! I feel pretty damned good this morning. Expecially given the fact that I drank more last night than, well, I don't remember when......
Anyhoo.....it was a great time. I seriously wish y'all could have been there.
I did not go to the shooting range. Given the mood I've been in all week, I just figured putting a weapon in my hands right now was not the best of ideas. But I hear they had a great time!
Around 3:00 Contagion, Ktreva and Grau cruised past paradise, headin' for Fritz's. Let the feastivities begin.
By the time Ktreva and I got down there it was Harvey, Grau and Contagion. Contagion, with a drink in each hand, was in his glory!!!
After a bit Bruce and Shadoglare show up and things start getting a bit blurry.....I'm assuming it was because the Capt'n Morgan was especially yummy last night.
It was hysterical.
You may be surprised to hear that I made a few "oops" during the evening.
First let me just put this out there - y'all with your fascination for midgets. Seriously. Those short/little people are NOT all that and a bag of chips. Really. I drank with them. And yes Bruce - I do know how to get to that bar....if you're sure you REALLY wanna go there......
Oh, and when I said "deeper" I didn't mean DEEPER. Oh forget it. I'll never be able to explain that one.........
There was some drunk dialin' goin' on......I'll just put a blanket apology out there. I don't THINK I said anything wrong, but I wouldn't bet the farm on it. Oh - and I DIDN'T take my phone so I had no one's numbers. Sorry folks - I just wasn't sure how to explain THOSE calls to corp. when the bill came in......
There were pictures taken. But the ones I have are all blurry. (Huh. Can't imagine how THAT happened) Except for this one......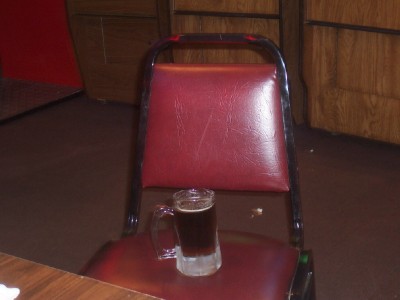 I wish I could capture the evening in words. But I'm just no good with that stuff. Just know - there was a shit load of laughing, no one or thing was off limits, it was just a damned good time.
And I just want to thank Contagion for pullin' this all together and ESPECIALLY for letting us celebrate his birthday this year.
Now I've got to get in gear. I've got a pot of beef stew to get started and some blank spaces in my memory to try and fill in.......