Tomorrow~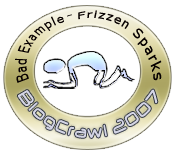 And it's a double header folks.
1) Drinking + Blogging = a very interesting read.
2) Contagion is actually CELEBRATING his birthday! WooHoo!!!
Now, I'm one of the lucky ones, cause BlogCrawl Central is actually 2 1/2 blocks from my house. :-) I'll be walkin' down to Fritz's to join Contagion, Ktreva, Harvey, TNT, Grau (who is missing right now), Bruce and whoever else can make it for an evening of laughter and shovelin' a lot of shit. (Damn, where DID I put my boots?)
Then, since Fritz doesn't have a wireless system set up, I'll have Paradise prepared just in case someone feels the need to start blogging immediately.
I figure some yummy snacks, a few beers, some really good scotch and something fun to drink for the ladies......yeah. That'll work.
BUT - here's the cool part - you don't have to be HERE to play. Nope. You can play along at home. While not QUITE as much fun as HALO 3, fun none the less.
So - follow the link to the rules. Then clear your schedule. Even if you're not a drinker, this will make for some funny exchanges. Oh, and some of the best are the "Morning After" posts.
Yeah......I'm really lookin' forward to this!
Thanks to Harvey and Pam for the very cool logo
Posted by Tammi at September 28, 2007 09:01 AM | TrackBack