Happy Birthday!
It's Army Wife's Birthday!!!!

We're Havin' a party!!!!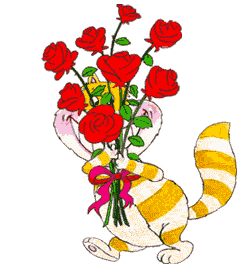 We're sharin' some yummy food and drink ideas, to celebrate this very special day.
**First - we have courtesy of Raging Mom - Dad's Meatloaf (THE BEST!)

3-4 lbs. ground beef (or ground critter- I will mix venison or moose in with half beef)
8 eggs
1 1/2 sleeves saltines, crushed
1 large onion, diced
1 1/2 c. brown sugar
1 1/2 TB. sage
2 cans of chopped green chiles
3 TB. minced garlic or garlic powder
salt & pepper

Bake at 350 for one and a half hours, or until done in the center. This makes ALOT of meatloaf, so you may want to freeze half until a later date.
Oh, and she adds this note: Please wish Army Wife a very happy birthday from Old Sarge, Young SGT and me!!!
**AW's blogsis LeeAnn shares THIS with us. Flowers, and TWO - no THREE!! yummy recipes! WooHoo
**Mrs. Who brings the drinks! Oh yeah, I'll be tryin' this one for sure!!
**Laughing Wolf joins us and shares not only some GREAT news but one of my favorite of his recipes. So much for my diet!
**Ohhh lookie here! HomefrontSix has KALUA PORK AND CABBAGE !! That looks quick, easy and VERY yummy!!!!
**And MaryAnn brings the Martini's. The Doge Martini's to be exactly. All the way from Germany!! I'll be trying THESE as soon as I find my "bar ware".
**Michelle from NY offers up THIS great recipe for Swordfish. Ummmm - sounds heavenly........
**Harvey just showed up with THIS very yummy looking carmel chocolate cheesecake. Damn! I've GOT to try this one!!!
**Now what do I want to bring??? Hmmmmm. Let me see. I know! I'll bring the cake!!! Well if a Chocolate Cheesecake would be alright.......
Makes one 9" cheesecake
Crust
2 cups chocolate wafer crumbs
5 tablespoons melted butter
Filling
3 packages (8oz each) cream cheese, at room temperature
1 cup granulated sugar
5 large eggs
2oz (2 squares) semisweet chocolate, melted
Frosting
6oz (6 squares) semisweet chocolate, melted
1/2 cup sour cream
Crust: In a medium bowl, mix together chocolate crumbs and melted butter until well blended. Press into a 9" spring-form pan.
**Preheat oven to 300 degrees F.
For filling: in a large bowl, beat together cream cheese, sugar, and eggs at medium speed until smooth and fluffy. Spoon half of cream cheese mixture into crust
Stir chocolate into remaining cream cheese mixture until well blended. Drizzle over batter in crust to make swirls.
Bake cheesecake for 50 minutes. Transfer pan to a wire rack. Cool completely.
Transfer cheesecake to a serving plate. Cover with plastic wrap, and chill for 2 hours.
Uncover cheesecake, carefully remove the side of the pan.
For Frosting: in a small bowl, mix together chocolate and sour cream. Spread over cheesecake. Chill briefly until frosting is set.
**Now THIS ONE you're gonna HAVE to try. It's courtesy of Richmond, who despite being in the middle of a move found time to send this over to me. Oh, and AW? She's sends her VERY BEST Birthday Wishes!!!
Now.....drum roll please You are sooooo gonna love this!!
Crack
8 oz cream cheese
2 C. Grated Mozz. cheese
1/3 C Mayo
2-4 oz. Boursin cheese*
1 Tbs minced garlic (from the jar)
Mix well and spread into an oven safe dish. You can top this with anything but *I* like it best sprinkled with bacon bits (I just get the oscar mayer kind in the pouch) and shrimp sauteed in garlic and butter. I drain off the sautee juices and lay the shrimp on hot.
Sprinkle with grated parmesean cheese and bake at 350 for 15-20 minutes. Yum!
**(I think more is better. I use 4. But if I am making a double batch, one package of Boursin will suffice - it comes in a 4 oz. size I think.) I have also used leftover crack to top a steak - holy surf and turf! It's delish!
**Oh, and Laurie brings dessert - Angel Food Cake, of course!!
**And Oddy has what looks to be a SINFULLY delicious dessert posted. Hey! You got Chocolate in my Peanut Butter!!!
**Now, I'm thinkin' Andi has the right idea. This sounds PERFECT!!!
**VW brings Kahlua Cake. Have I ever mentioned how much I LOVE Kahlua?!?! My printer is gonna run out of ink after this!!! Sounds Great VW!!!
**T1G offers up his super secret recipe for bread? Bread?? Ok, since he's usually right, we'll go with that.....
**Ummmmm Teresa brings Coconut Impossible Pie. I am ALWAYS looking for a good coconut pie recipe. This one sounds GREAT!!!
**Pam has me crackin' up with her addition! Really Pam. You do make me smile!!
I'll update this throughout the day as folks join in
HAPPY BIRTHDAY ARMY WIFE!
We Love You!!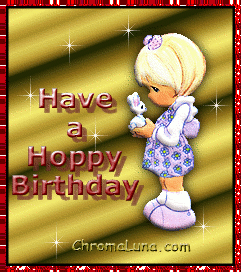 Posted by Tammi at July 13, 2007 05:13 AM | TrackBack