He's Here! He's Here!
The little shit is early. Hmmmm.....I'm thinkin' Mama and Daddy may have their hands full.
Oh, wait. I guess I should let you in on the details.
Carmen Had The Baby!!!
This is the email I got.
Patrick Denton (I'm not tellin' the last name) arrived at 8:13 AM this morning. He weighed in at 4 lbs 14 ounces and 17 ľ inches long. The Grand Motherís agree he is the most beautiful baby in the nursery and is in excellent health.
Carmen is resting well and there were no complications. Iíll let her tell you more later.
Carmenís Mom
Holy Cow!!! I gotta get me a ticket to Florida QUICK! I got a baby to welcome to the family!!
Hmmm....I think I'll call him Piddy. (PD, get it!!) Yeah, that'll bug the hell outta Carmen.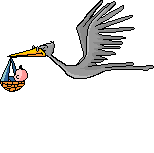 Posted by Tammi at May 17, 2007 02:46 PM | TrackBack