A Spot of Heaven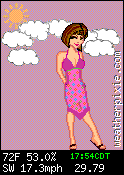 Do you see that? Do you see the light pretty dress? Do you see it say's 72 degrees?
Holy Sweet Goodness - this has been the most beautiful day in recent memory.
Yeah, I know. It's gonna get cold again this weekend.
Don't care.
Not at all.
Because today....it was heaven.......

Posted by Tammi at March 13, 2007 07:34 PM | TrackBack