Why Is It...(updated)
....that every pair of shoes I like have an over 3" heel?
For cryin' out loud. That would make me over 6'5"!!!!
Yes, I'm internet shopping. Still trying to find something to wear to Carmen's wedding. I don't want to embarrass her so I figure I outta look....nice.
This is the dress I just ordered. It's on sale so I figure even if it's not as dressy as I want it's still a great deal.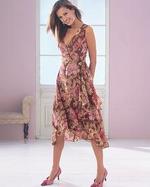 I think it'll be just fine.
Now....shoes. I love the ones in the picture - but do they carry them? Oh no. So I'm looking for a pair of tan open pumps or dressy sandles. But like I said - every thing I like is over 3". Arrggghhhh. I'll wear 2 1/2" or UP TO a 3" but more than that? Not so good.
And I have to shop on line. No time to hit the shoe stores - so any suggestions y'all have one where I can look or if you see something you think might go - shoot me a link. Oh, an FYI - I'm not a fufu shoe girl. No flashy bows or jewlery on my shoes, thankyouverymuch.....

UPDATE:
So what do you think of THESE? I know I said no "jewelry and such" but - I think I might just be in love.....
Posted by Tammi at August 19, 2006 11:02 AM | TrackBack