He Never Said A Word
Ok - picture this. I'm sitting in one room, Blogdaddy Harvey is sitting in the next room. I hear the click click click of his keyboard. I just called him in to watch THIS video I found linked over at Blackfive's place. We share a laugh. He goes back to his office, I stay in here.
Then I see he updated his site. I click over and read IT'S HIS FLIPPIN' 3 YEAR BLOGIVERSARY!! He never said a word.
So - he's asking us to "remember when".
Hey Harvey - you remember that one time we were sitting around the pool at my house...oh wait. That really happened.
Ok - how bout this....remember that one time a bunch of us met up in Chicago....oh wait. That really happened too.
Hmmmmm - gotta tell you dude. While I wanna make somethin' up, having you as my friend is much better than anything I can dream up.
So - instead I'll offer you THIS
FRONT VIEW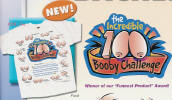 Back View


Description: The Incredible Booby Challenge T-Shirt & Pen - $19.98
Have the guy wearing this shirt ask all ladies to participate by "flashing" their hooters to him and then checking off the appropriate hooters and signing on the line. The challenge is to see a total of 100 boobies. Size XL Found HERE
Happy Blogiversary Harvey!!!!!!
Posted by Tammi at June 21, 2006 08:22 AM | TrackBack