This one's easy....
Harvey tagged me with a new kinda meme. On his ANNIVERSARY even!!! (Seriously - Happy Anniversary you two. Your love is an inspiration)
And this meme was actually one that came pretty easy to me.......
I dedicate this one to a couple of folks:

Army Wife: Cause I just know....
Teresa: Who is all about the Starbucs
Laughing Wolf: We are soooo the same with this
And BloodSpite: Yeah, I *know* you get this!!!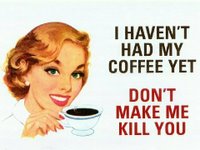 Piece-o-cake! (would actually go really great with my coffee this morning!)
;-)
Posted by Tammi at April 9, 2006 11:00 AM