It's My Day!
It's my birthday. I've been worryin' that fact for a while now, but have decided that it is MUCH better than the alternative.
So - I'll just have a good day. Hell, why not.
Anyway - got a few things I want to share with you. Things that folks have done or sent that have already made today pretty damned special for me.
First - AW does know me so well. To celebrate my b-day she is asking folks to sign up with Soldiers' Angels and adopt a Soldier. That is just about the best present I could ever receive. Head on over, follow the links then leave us a comment, letting us know what you did. This is PERFECT. Thanks AW!!!
KTreva sent me this last night before she left on vacation.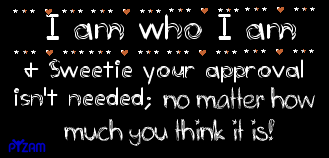 I'm seriously thinking I should have that done on cross stitch.....
And I got a birthday card that, if I can figure out how my new scanner works, y'all will CRACK UP! I swear, it is the funniest card I have ever received!
WooHoo!! It's a pretty damned good day, here in THE valley! Thank y'all! More than I can say....

Posted by Tammi at July 28, 2007 04:19 AM | TrackBack