Snow? SNOW????
Growing up I was always told it could get "too cold to snow". I'm kinda thinkin' that anything around, oh say ZERO is too cold to snow.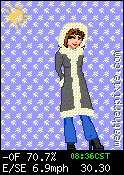 I can officially say that NO, that is NOT too cold to snow. We're having near white out conditions right now.
Oh, and as a funny haha, the last time it was THIS cold for THIS long, according to the news, was the February I decided to move to Florida.
Funny, as cold as it is, it doesn't seem as cold as I remember that being. But then again, I got a bit more insulation this time around......

Posted by Tammi at February 6, 2007 10:15 AM | TrackBack