Spread The Word
Well, today is the day. The offical LAUNCH date of The Blog of War - a project from the heart of Blackfive.
The book has been the buzz of the blogsphere. And for good reason.
I ordered mine a while ago and was thrilled to receive it last week. I've read it cover to cover. And then went back and picked through it again.
I didn't leave my house without it. Over the weekend we, the book and I, went out for brunch. There I sat, in my corner booth, wearing my US Marines hat, with tears pouring down my face. I couldn't help the tears. I didn't apologize for them either.
In one sense the book is like a scrapbook for me. Memories of posts I love, blogs that have since gone dark, people that I prayed/pray for every day. I saw many of my friends represented in those pages and the pride washed over me like a tidal wave. Pride in who they are, the choices they made/make, the sacrifices they have chosen in order to make this country safe.
Am I biased? Hell yeah!! Without a doubt. But bias aside, this book is one of the most important things to go to print in years. EVERYONE should read it. Everyone NEEDS to see what these amazing men and women have to say, what they've done, how they continue to put our freedom before their own lives.
So do yourself a favor. Get the book. Get a couple of copies. I had to buy a spare as I refuse to loan out my only copy.
The Blog of War - amazing, rivating and honest.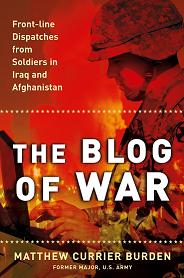 Here's Blackfive's Post with more information.

**I am moving this to the top of the page for today. It's too important.
Posted by Tammi at September 5, 2006 03:00 PM | TrackBack