Lovely
So, what is THIS?!?!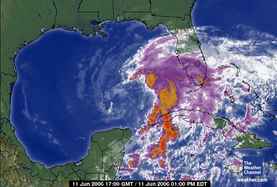 I'm actually WANTING to go back up north and it looks like my flight might be a bit messed up.
Oh - the tropical storm is still out a ways. We've just got gusting winds and rain right now. JUST enough to screw with flights. Yipee.
Damn - I can't not get home. I gotta go to work.
Ain't this just my luck??!?!?!
Posted by Tammi at June 11, 2006 12:15 PM | TrackBack